News
January 2023
The group welcomed a new member Carlos Henrique Vieira Melo
November 2022
The group welcomed a new member Büşra Buse Tütüncü.
June 2022
The group welcomed a new member, Eva Bednářová.
May 2022
Lucie Wohlrábová published article: "Chalcogen-based ratiometric reversible BODIPY redox sensors for the determination of enantioselective methionine sulfoxide reductase activity" (co-author).
Anna Poryvai published article: "Red‐Shifted Water‐Soluble BODIPY Photocages for Visualisation and Controllable Cellular Delivery of Signaling Lipids" (first author).
January 2022
Group photo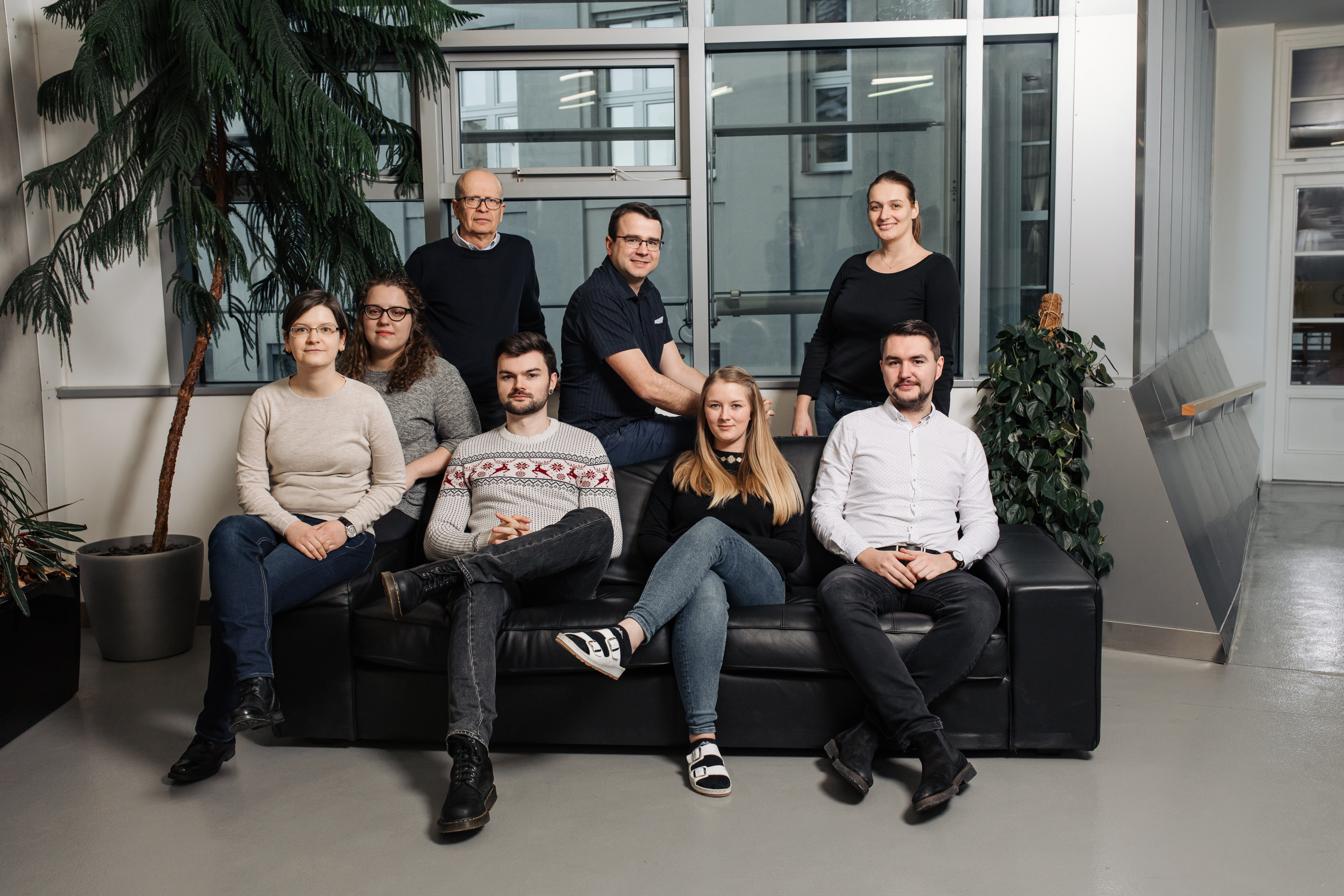 Group leader Tomáš Slanina received an ERC Starting grant for the project: Electron deposition in chemical bonds: Towards molecular solar electric batteries.
Tereza Černá joined the group.
December 2021
Lucie Luvdíková joined the group.
November 2021
Karolína Bangievská and Jakub Krištof joined the group.
Group leader Tomáš Slanina received a grant (GAČR-Junior star) for the project: Organic solar electric batteries using electron deposition in chemical bonds and a grant (GAČR - basic grant) for the project: Photochemical strategy "Catch and release": Towards new molecular switches and bioorthogonal reactions.
Anna Poryvai obtained the prize for the best oral speach at the conference (Liblice 2021).
September 2021
Ondřej Groborz and David Dunlop finished their Mgr degree at Charles University.
June 2021
Lucie Wohlrábová finished her Ing degree at UCT Prague.
Jakub Copko obtained IGRA grant for project: Focusing on triplet states: Photoredox chemistry of pteridines.

May 2021
Jakub Copko obtained Jitka Moravcova prize and the prize for the best poster in organic chemistry section (Interdisciplinary Meeting of Young Researchers and Students in the field of chemistry, biochemistry, and molecular biology and biomaterials.).
March 2021
David Dunlop obtained a grant (GAUK) for the project: Characterization and modulation of degrees of freedom of organometallic complexes. Quantum-mechanic studies, experimental characterization, and target synthesis of conformationally differentiated metallocene derivatives for physical and medicinal chemistry application.

January 2021
Group welcomed a new member, Professor Dalimil Dvořák.
December 2020
Personal changes
Jiří Doležel leaves the group and continues with studies at University College London. Good luck!
Christmas party 2020
On 11th December a Christmas party took place. Christmas presents were given, "lab" quiz was played and also a group "band" played.
November 2020
Josef Hlávka Award
Tomáš Slanina won the 2020 Josef Hlávka Award as one of five young talented scientists of the Academy of Sciences of the Czech Republic under 33 years of age. Congrats!
Student scientific conference UCT 2020
Lucie Wohlrábová won the second place in the organic chemistry section III for her work: BODIPY based synthesis of photoremovable protecting groups. Congrats!
Interview in journal Věda a Výzkum